Flowers are blooming, birds are singing, and your backyard is growing greener— all of that leads to one exciting truth: spring has sprung! With Easter just around the corner, it's about that time to start brainstorming how you'll make this year's celebration more special than ever before. Whether you're planning a family feast or an Easter egg hunt for the kiddos, use this guide to make your Easter celebrations better than ever!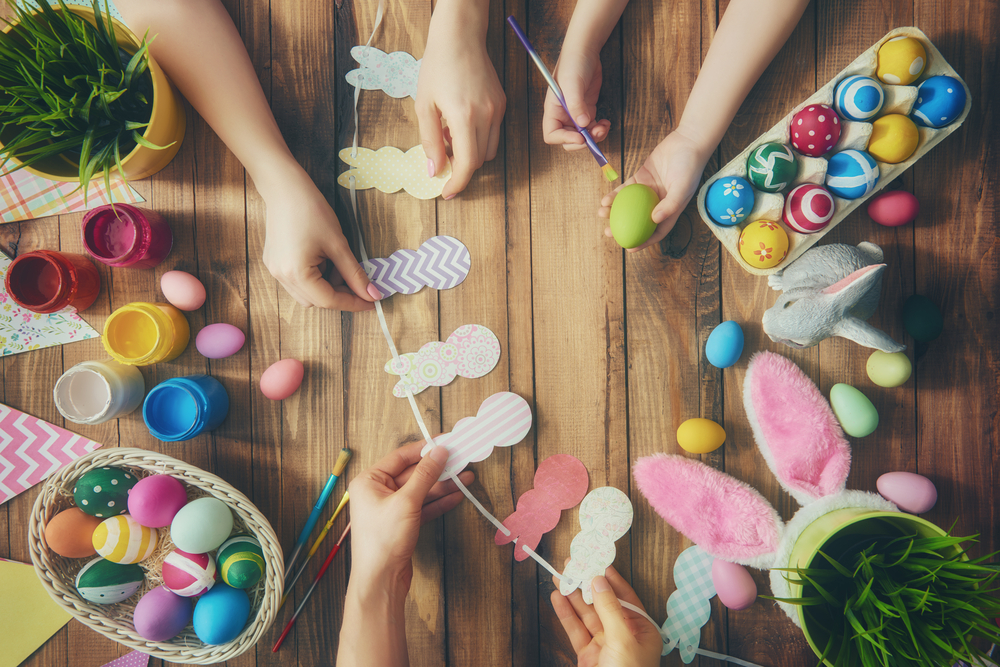 1. Pick a color scheme
Stuck on where to begin your Easter decor plans? The easiest place to begin is with a color scheme. The moment you pick out two or three colors, the easier trips to the craft store will become. Springtime is all about pastels— light and airy colors to match the whimsical mood of the season. Some of our favorite color schemes include:
● Peachy pink, pale yellow, and white
● Lavender purple, gray, and mint green
● Royal blue, periwinkle and white
● Sage green, soft gray, and light brown
2. Plan ahead
Waiting until the last minute is a great recipe for disorganization, messy decor, and a stressed-out brain. Set yourself up for success by planning your Easter celebration weeks ahead. The bigger the celebration, the further in advance you'll want to plan. From decorating your home to nailing down your famous cake bake execution, welcome Easter weekend with ease and preparation.
3. Dress the part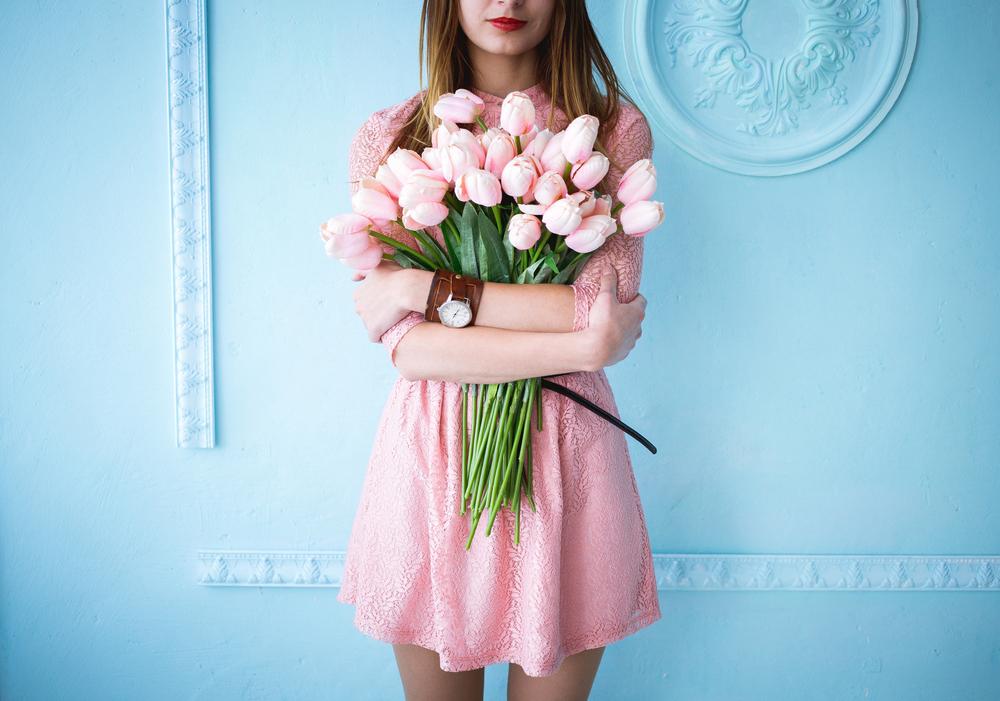 Your church outfit is one thing, your party outfit is another. A light-colored springtime sundress pair with loafers for women is a killer combo for a relaxed yet refined look. If you're stumped on outfit inspiration, but still want to look your absolute best, try these cute looks!
● A floral-patterned wrap dress
● A pastel-colored midi bodycon dress
● A yellow swing dress
● A pastel green tie-front jumpsuit
● A crochet maxi dress
4. Organize crafts for the kids
Keeping children entertained is a task within itself, so before their short attention spans give you the headache of a lifetime, plan out fun crafts to keep them occupied and happy. An egg hunt is a classic activity that kids of all ages will enjoy. Rock painting will give them a creative outlet for their wild-running imaginations. Turning wooden spoons into springtime creatures lets them leave with a new buddy. Transforming simple paper bags into fun animal puppets promises an entertaining show after dinner time! The options are truly endless.
5. Send invites early
Easter is a busy holiday, which means that if you're not hosting, you probably have plans elsewhere. The same is the case for all of your friends and family. If you're planning a get together at your own house, be sure to send your Easter celebration invites early to let your loved ones know your spot will be hopping!
6. Decorate the porch
What better way to welcome the season in than with a bit of sprucing up on the porch. Go big with a complete front door paint job or go small with simple flower box decor. An Easter egg wreath is a fun DIY project that will look dashing on your front door. Got a green thumb? Try your hand at making your own flower wreath! Outdoor decorations are super easy to find at your local craft store, so if you're in need of a quick home decor fix or some DIY inspiration, a trip may be on your agenda.
7. Perfect your tablescape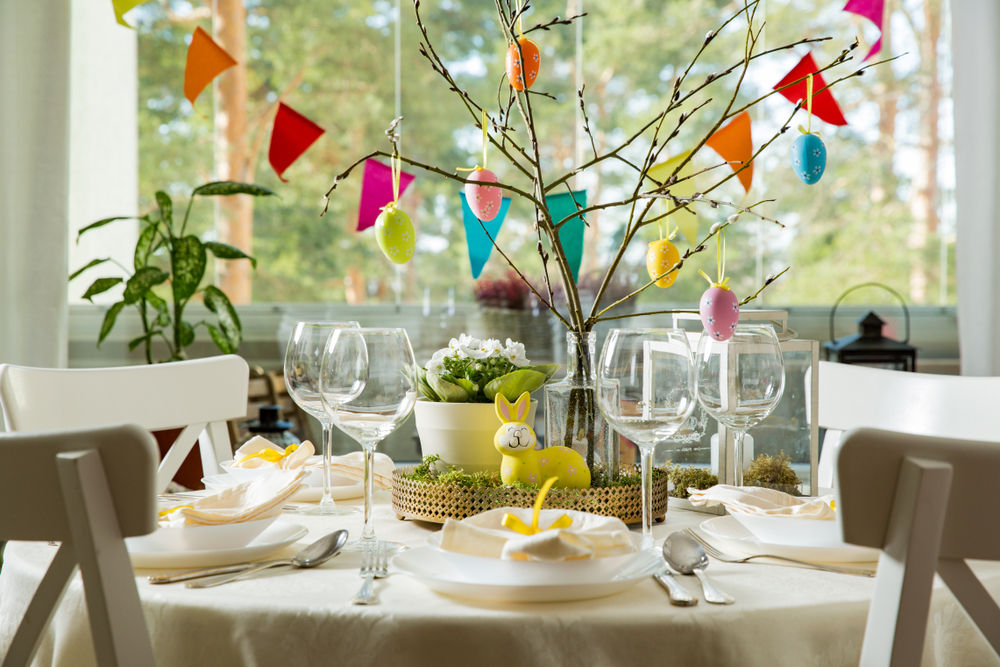 Tablescaping isn't just for weddings! Become the belle of the ball by impressing your guests with gorgeously coordinated tablescapes. From pretty placemats to colorful centerpieces, capturing the spirit of the springtime on your dinner table is a great way to welcome guests and ace your aesthetic game.
8. Find an adult-friendly craft
Candle making, terrarium creation, wine cork crafts, and even Easter egg painting are all adult-friendly crafts that everyone from your mom to your sister-in-law will enjoy! After a few glasses of wine and a generous dose of sunshine, everyone will be ready to let their creative juices flow and become the next Monet! Keeping the adults entertained has never been so easy.
9. Pick your playlist
Set the tone of your Easter party with a carefully curated playlist that keeps the vibe feeling warm, and cordial. Be sure to have these springtime classics queued up:
● Tongue Tied by Grouplove
● Put Your Records On by Corinne Bailey Rae
● Dreams by Fleetwood Mac
● Someday by Sugar Ray
10. Meal prep
Treat your Easter celebration like you would your Thanksgiving dinner party. Do all of your meal prep ahead of time to ensure your baked ham, scalloped potatoes, and lemon tarts are ready for making, baking, cooking, and eating in a timely manner!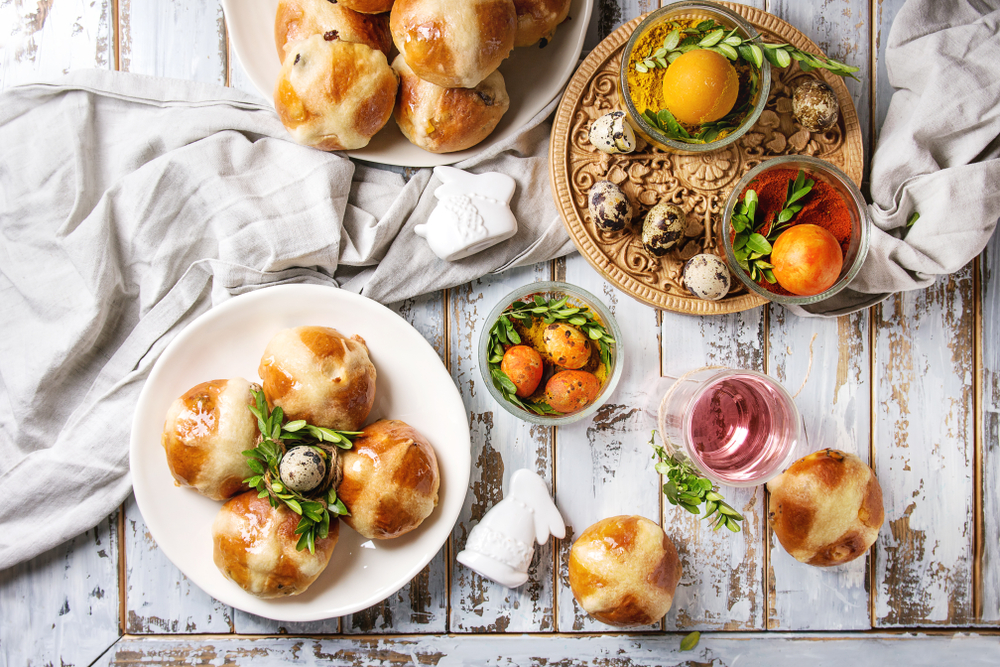 Make your Easter party the best one yet with these 10 tips. Let us know your favorite spring decor or meal ideas down below!