Bringing a new life into this world is an extremely rewarding moment for anyone. It also means you're going to be making a ton of changes—both in your life and your home. If you're preparing to give birth to your first (or fifth!) child, you're going to need to create a space for them to learn and grow. If you have an extra room in your home, it's the perfect place to create a beautiful nursery. Keep reading below for the best nursery room ideas that your baby will love!
Wall Color
To create a calming and relaxing space for your little one, you're going to want a warm and welcoming environment. Set the tone of your nursery with soft colors such as white, light blue, or an inviting gray. Or, add some flare with unique wallpaper that adds some character to the room. If you're unsure what color will look best as you flip your extra room into the perfect nursery, use a paint-preview app that will allow you to see what different colors will look like in your room, as well as give you suggestions and prices to paint your nursery.
Comfortable Furniture
To keep your newborn sound asleep at night, you're going to need comfortable furniture that will keep them warm and cozy for hours on end. Look into a multifunctional bassinet that can convert into a crib as your baby grows. And don't forget, you need to be comfortable, too! Taking care of your newborn means you're going to be spending just as much time in the nursery as well. Find a plush futon that can be used during feeding time and can be turned into a bed for those nights your infant can't seem to get any shut-eye.
Babies are also known to make a pretty big mess. Make changing diapers easy with a changing table that has it all. Look for changing tables that have ample storage space for extra diapers, wipes, and baby powder to turn this smelly chore into a more enjoyable task.
Storage
Aside from storing all your changing needs, you're going to want extra storage for everything else! From birthdays to the baby shower, and Christmas to Easter, your friends and family will find a way to surprise your newborn with funny onesies, stimulating toys, and captivating storytime books. After a while, you'll be asking yourself where all this stuff came from, anyway! To stay organized and create a calm and relaxing environment, storage is key.
Get a playful chest and organize each drawer with clothes based on size. Before you know it, you're little one will outgrow their 2-month-old clothes and need 6-month-old clothes stat! Keeping your nursery neat will make parenting just a little bit easier.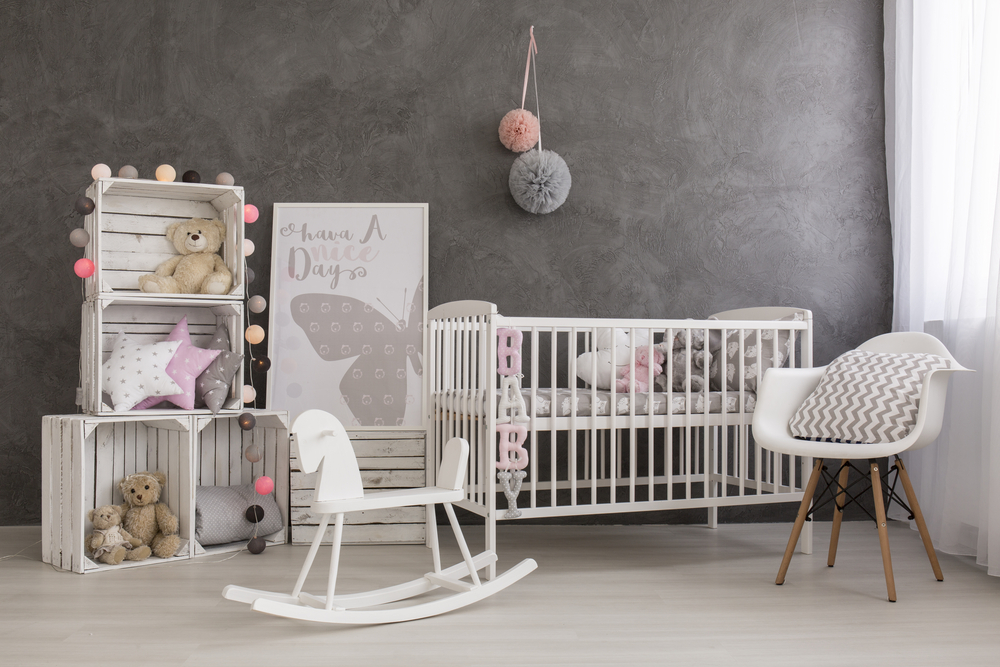 Adjustable Lighting
The last thing you want is for your precious sleeping baby to wake up screaming and crying as the sun begins to peak through the shades. Newborns need a lot of sleep, sometimes up to 12 hours, so their bodies can grow into the person they'll eventually become. Install blackout shades that will block the bright sun in the morning and leave your baby sleeping soundly. Additionally, you should invest in adjustable LED lights that can change dimness so your infant isn't bombarded with bright light in the middle of the night as you change their diaper.
Stick to a Theme
To create the perfect nursery, you should stick to a theme. Sticking to a theme will provide some uniformity in your chaotic life that you'll appreciate on those hectic days. Is interior designing not one of your strong suits? Download an interior design app on your smartphone that allows you to take a photo of your room, toggle with different pieces of furniture, and get inspiration for a theme you'll love! Then, add a personal touch by hanging handmade picture frames of your growing family to cherish those precious memories.
The Bottom Line
Turning an extra room into the perfect nursery doesn't have to sound as difficult as it seems. If you do your research and take time to plan, you can create a room for your baby that matches your personality and fits within your budget. However, start early, because the last thing you want to do when you're about to give birth is deciding on the right paint color or assembling your new crib!