Decorating with gourds and pumpkins can be so much fun and easy because they come in all shapes and sizes. Here is your guide to choosing the right gourds and turning your home into a cosy autumn oasis.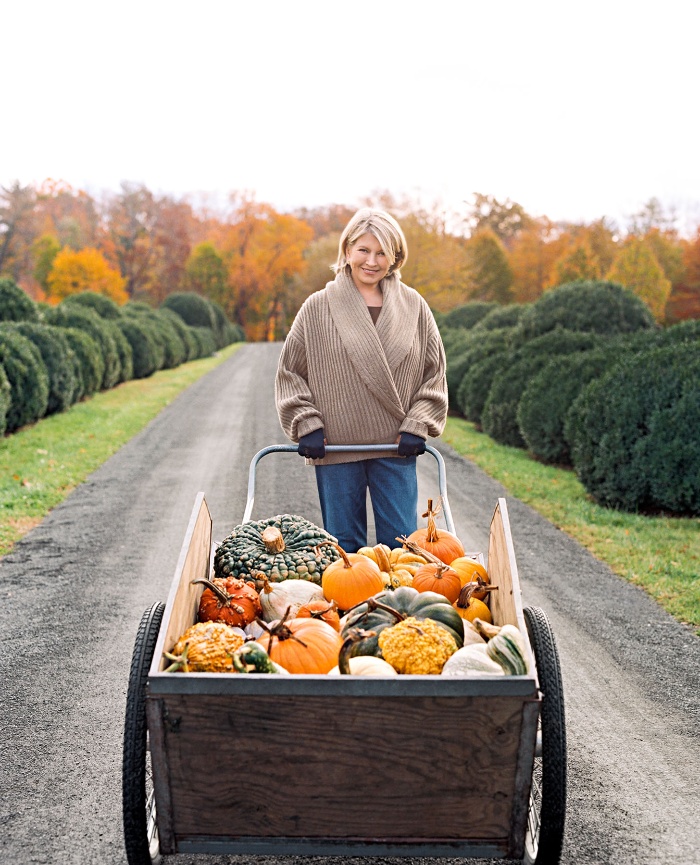 TYPES OF ORNAMENTAL GOURDS
Did you know that there are two main types of decorative squash: Lagenaria siceraria (a.k.a. calabash) and Cucurbita pepo? Let us take a look at some of their most intriguing varieties and what you can use them for.
Lagenaria siceraria gourds are suitable for birdhouses and containers because they can be rounded and large, as well as small and bottle-shaped.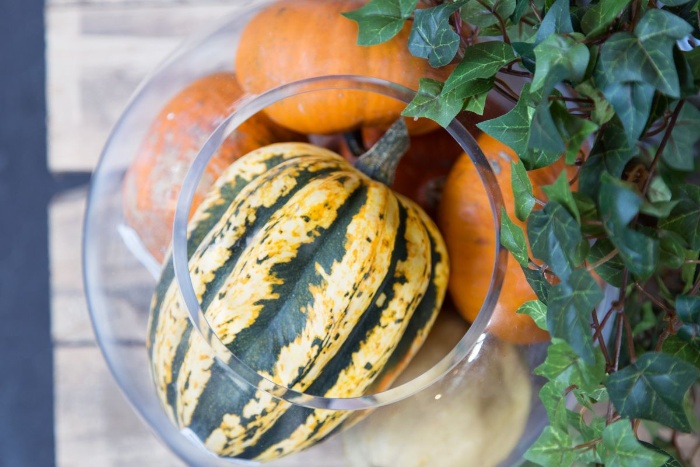 If you intend on decorating with gourds that have a rounded bowl shape, consider using the cultivar 'ÁPPLE'. It looks like a combination between a pumpkin and a green apple. However, its color tends to change to yellowish-brown in the process of drying.
'SPECKLED SWAN' is another interesting cultivar of the same type, which has a grassy green color and creamy white specks. It is known for its flat base and sweeping neck, which curves downwards.
The second type of gourd (Cucurbita pepo) includes varieties that are edible (i.e. pumpkin), as well as ornamental forms.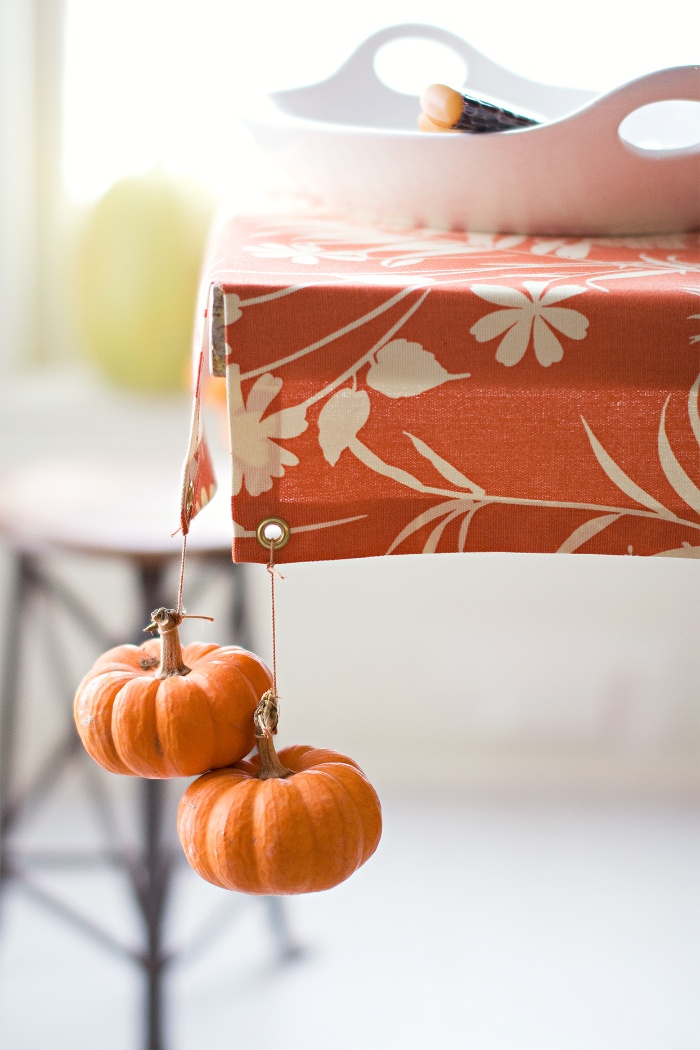 If you are looking for mini gourds for crafts or jewellery, then go for the striped green 'TENNESSEE SPINNING'. It looks very cute because it resembles a misshapen green watermelon.
On the other hand, choose the colorful 'DAISY' variety if you like fruits with beautiful flower pattern. You can use these decorative squashes to build a gourd arbour in your garden.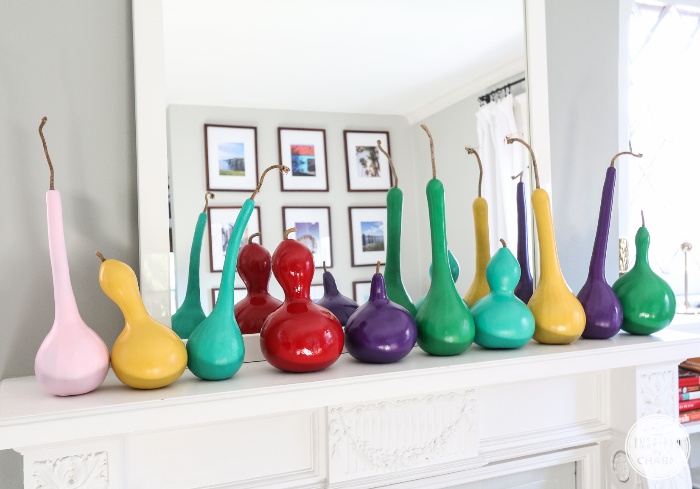 FALL GOURD DECORATIONS
Now that you know more about gourds, let us give you some ideas for decorating with pumpkins and gourds.
If you want to invite abundance into your home, make your own DIY horn of plenty (a.k.a. cornucopia). Just grab a horn basket and fill it with hay, colorful gourds and mum flowers.
You are looking for a quick way of decorating with gourds? No worries. Simply fill glass jars with mini gourds in various colors and turn them into impressive centrepieces for fall parties.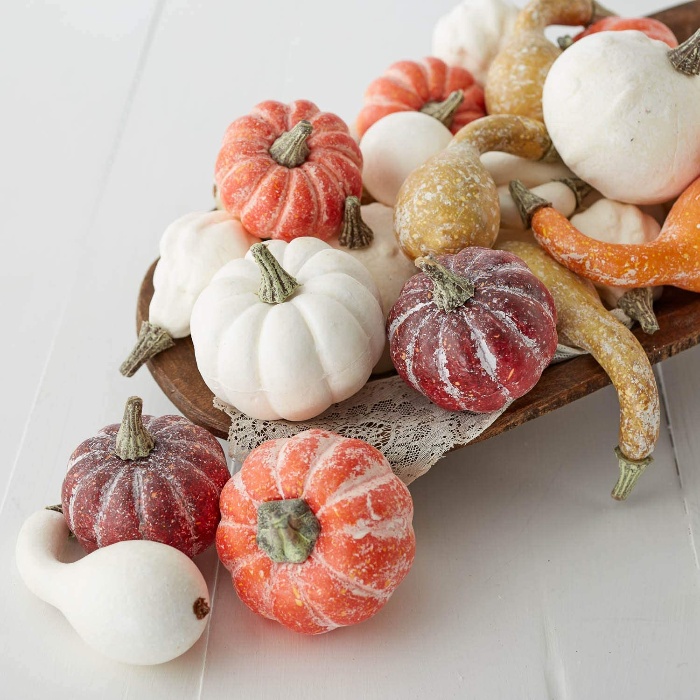 If you like Thanksgiving and Halloween, you can also create amazing gourd Halloween decorations. One option is to carve out your own Jack O' Lantern gourds.
Another option is to make gourd lights. To do so, cut a hole inside the gourd, put a tea light and light it.
If you want to use decorative gourds for practical purposes, consider making homemade bowls or plant homes. Cured gourds are perfect for homemade bowls because they are hard to break. Once you dry and cure the gourd, cut it in half. After that you can paint the inside and cover it with food-grade varnish.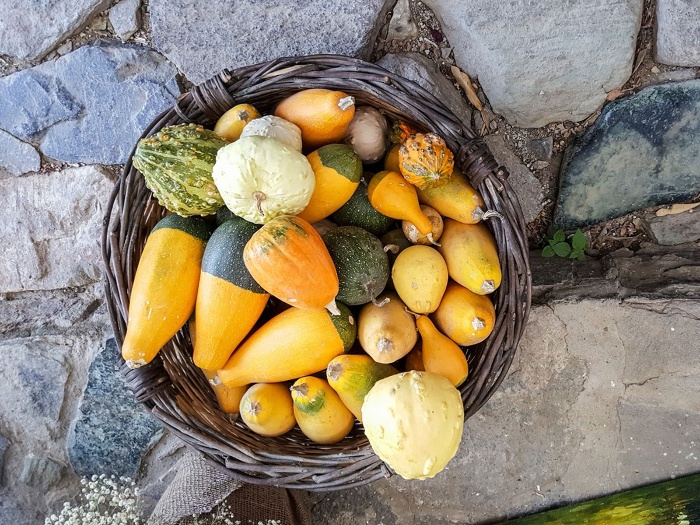 To make a gourd plant home, cut an opening in your gourd that is big enough for the plant. You will also need to cut some drainage holes in the bottom to limit the risk of root rot.
Last, but not least, another funny approach to decorating with gourds includes making faces. Depending on your mood and the gourds you use, facial expressions might look adorable, spooky or even crazy.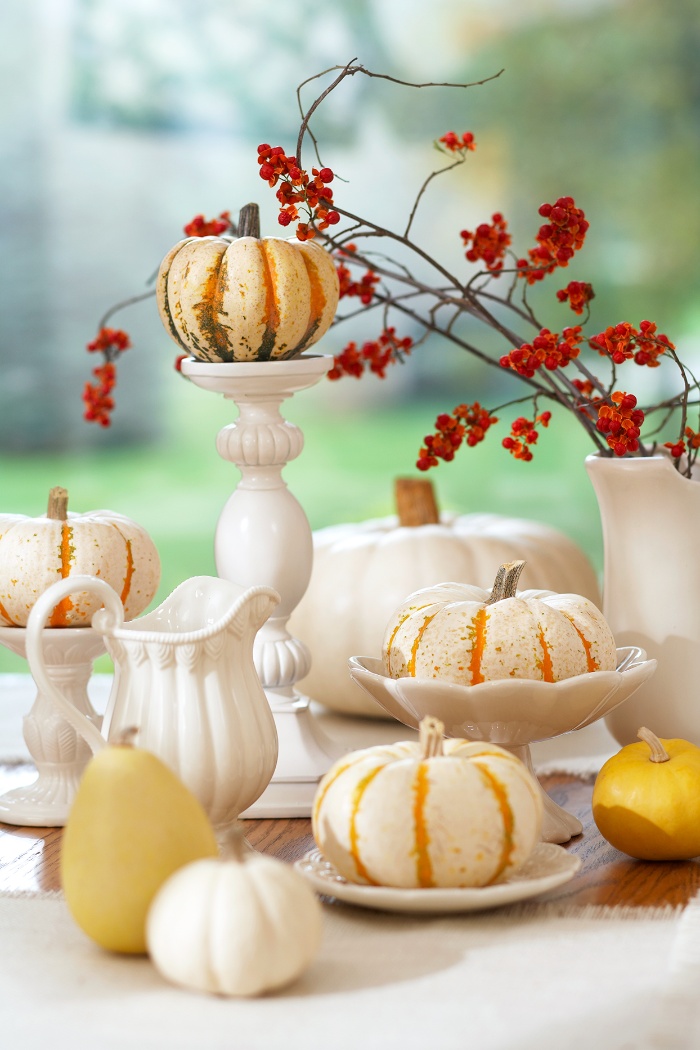 When it comes to decorating with gourds, there is no shortage of ideas to try out. Give yourself the space to be creative and work these items into your everyday home décor.