Hand-Decorated Eclectic Mid Century Modern Furniture
Eclectic Mid Century Modern Furniture
The following fantastic furniture collection is inspired by the colors in Aurora – fuchsia, pink, orange, green, blue and red. It is one very joyful collection that provokes happy feelings and positive mood. It so fancy and a little bit eccentric that it can be the perfect colorful accent in your garden. Come on, bring the freshness into it. The furniture itself has very solid iron hand-made frame as well as resin wicker and some fine metal accents. Colorful pillows can be well arranged in order to complete the outstanding look.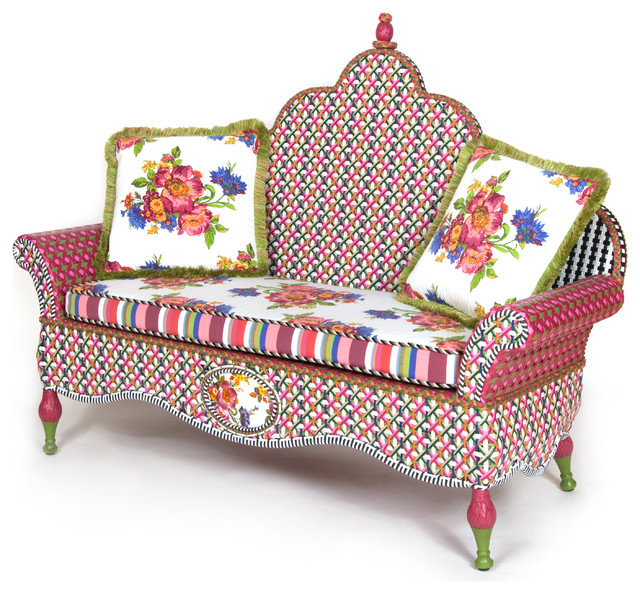 Can someone be over amused? What a ridiculous question! Of course, not! Fastidious and elegant is the following chest that is so impressive that nobody can resist its charm. It has hand painted top which edges are covered with salmon and stripes in green. The trip is antique brass. The floral elements that are used for the front and back side side envelope the whole piece of furniture in a magical dynamic shape game. It is expensive but every dollar is worth it because it is hand crafted.
What is the first thing that comes in mind when you hear the term "Club Chair" ? We bet, that this is plush and comfortable piece of furniture. This exotic Courtly Campaign Club Chair has striped black and white texture that makes it so impressive and eye-catching. MacKenzie Tartan made this especially for a club in Scotland. Leather buttons cover the back side and function as an contrast element in the chair design. This piece of elegant and intriguing furniture can the best addition for your British style library with heavy classical wooden furniture.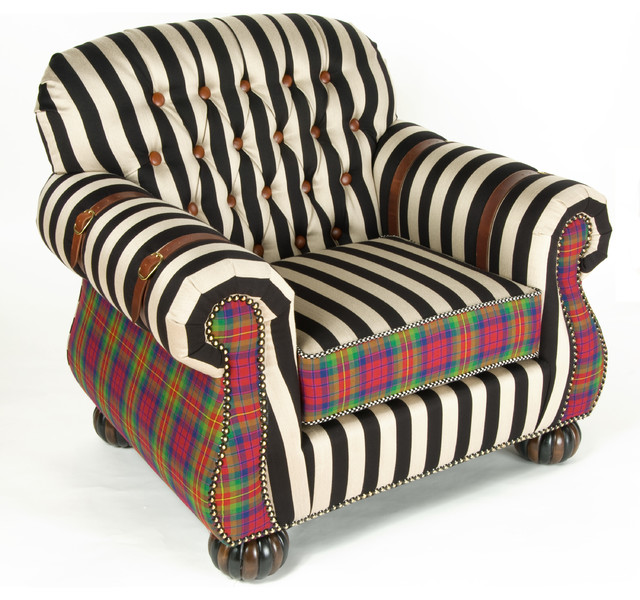 As an addition to the above eccentric chair we would like to present to you this magnificent same style stool that is the best landing platform for your legs. We can you give you the most brilliant idea. Put a glass table over the top of the stool and it can turn into the most intriguing and impressive tea table where you can have your afternoon tea and joyfully talk about politics or literature, for example… if your are that kind of snob For the rest of the ordinary people, this is just one fantastic way to put some extra colorful elements into your room.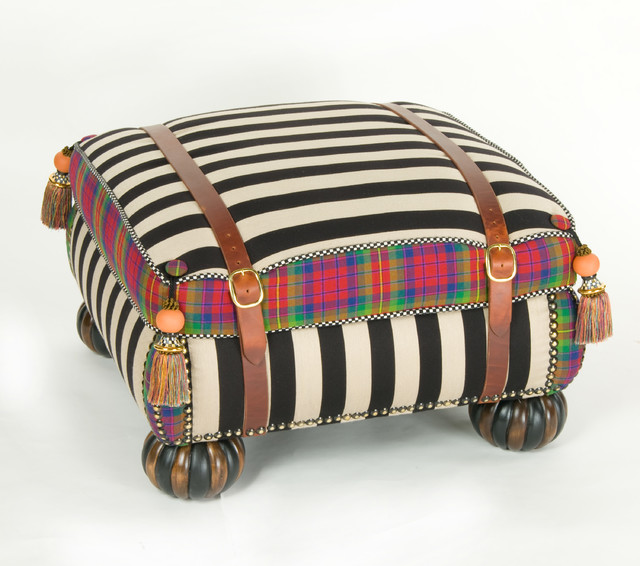 Can eclectic be cozy? Of course it can! Have a look at this beautiful stunning velvet nuances. A lot of hand-made accents again as in the previous examples of the collection. The cushions on the sofa are in neat tones that put tranquility in the surrounding atmosphere. A decorative nailhead trim is adorning the front side of the sofa.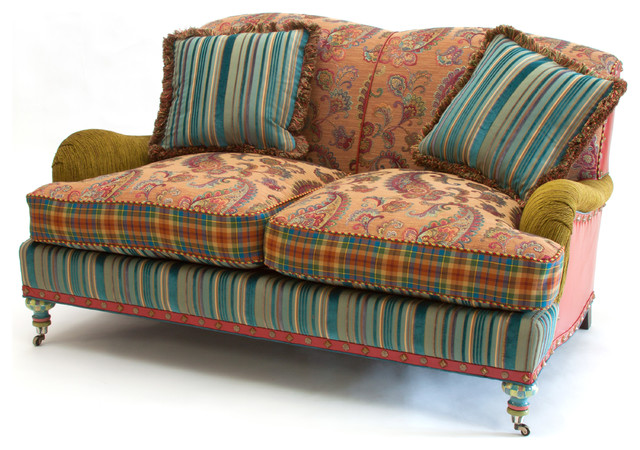 The time passes by and it was such a good idea to make so impressive clock that will make this movement more pleasant to watch. Flowers is the light motif of this piece of home furniture. Cracle Finish and Parchment Check™ are used for main wooden case in the clock. A lot of creativity has been used when painting the panels. Again, you can see some hand-made elements, like the metal flowers in the top part. There is also an outstanding antique brass mesh roses. We can't miss to mention the German mechanism that is using Westminster Chimes.

This is one fantastic small glass table that is simply perfect for every home. It's nuance are more reserved than the other furniture.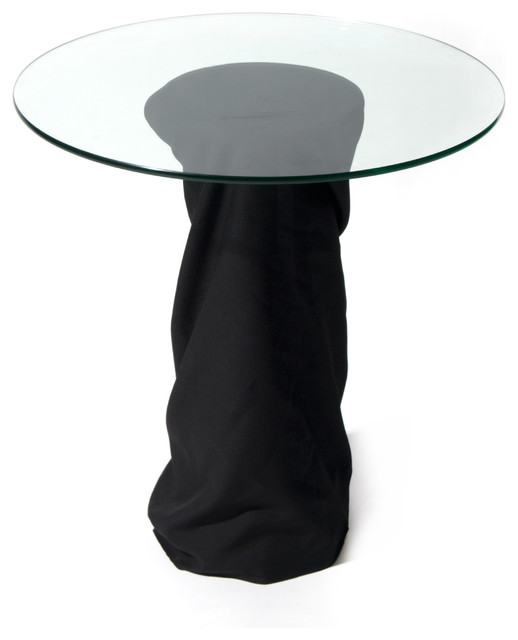 The design for this spectacular piece of furniture is a result of inspirational thoughts and a lot of designer experience. Mirror mosaics are widely used for it, together with a lot of floral elements checks, stripes and other. Marble is used for tiny little details that only an eye of connoisseur can spot. Can you also notice turtle feets of ceramic rabbit drawer pulls? Have a look at the top. What do you see there? When you pull out a drawer you will be amazed how good looking it is inside. A prefect place for jewelry or something precious. Mahogany can be found as a solid material that brings some serious appeal to your eclectic home.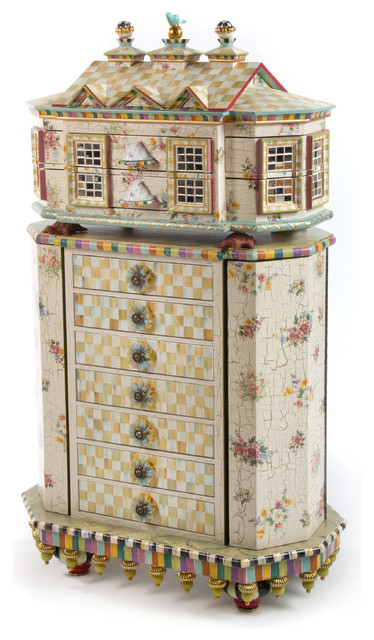 This spectacular hand-made eclectic furniture collection reveals another masterpiece. The gorgeous bookshelf is painted in colorful spring nuances that can conquer your mind.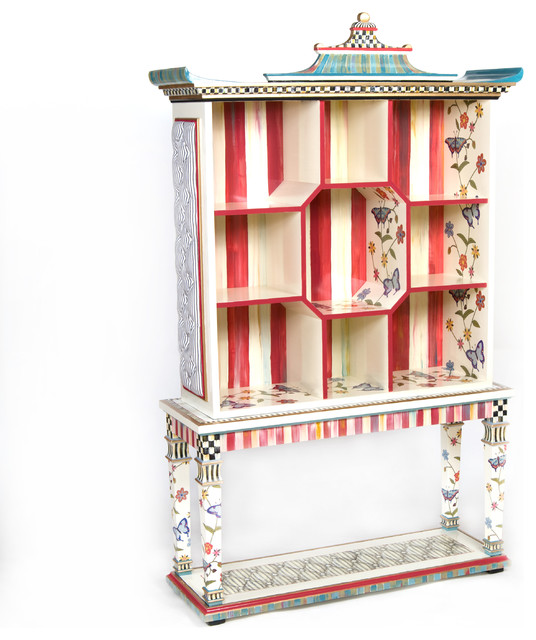 What a lovely couch! This specific piece if furniture is not so sparkling in colors as the other collection items. Its white color make it easy to fit to every kind of interior as white is a neutral color. Its ivory tones are so mild that relaxing on it is a fantastic experience. Only highest quality materials have been used for the work. Soft and elegant designer lines are taking the furniture style near the contemporary and stylish interior design trends. Interesting fact is that all the materials are eco friendly and are in unique unison with all the standards for such kind of products.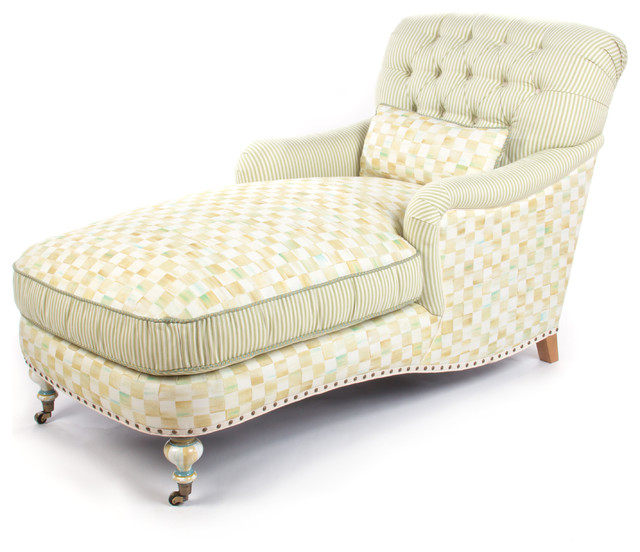 This silky dots are all hand made and thus making this piece of furniture unique. This is the only of the kind as you can't find anything else like that anywhere. Softness is the main feature of this gorgeous stool.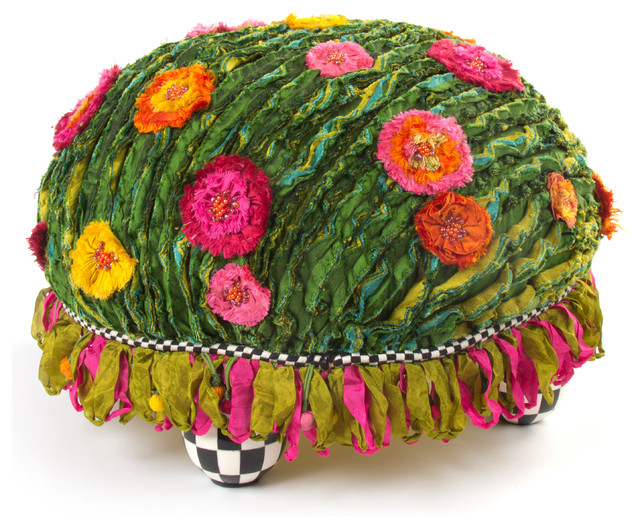 Can this be the perfect accessory for every home that likes to include some eclectic elements in it? This beautiful mirror is a really authentic furniture element that is made with perfection in order to satisfy every whimsical taste.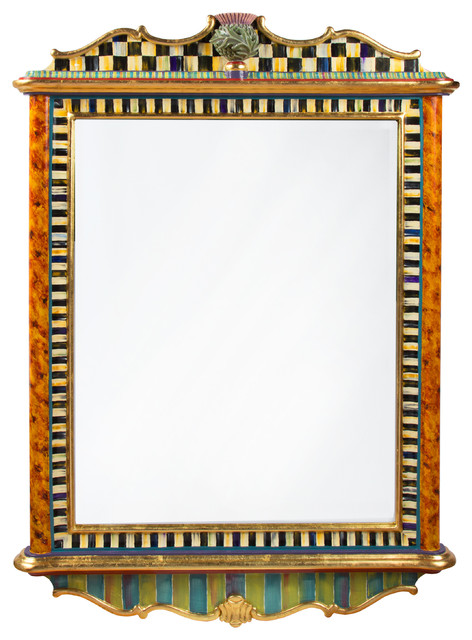 Dramatic contrast and brightly colored with a lot of stylish taste. This is the following texture that can take your breath away. It is cozy, comfortable and impressive. What else do you want from an eclectic armchair? The frame is wooden and is painted by hand, so you can be sure that this is simply unique.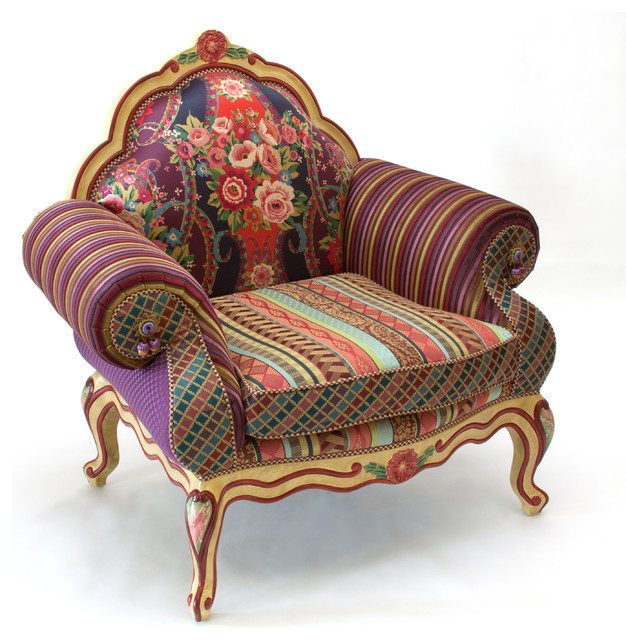 Another colorful interpretation of classical furniture designs. The material used for this ottoman is mainly leather – the sitting surface, for example. Other materials are the wooden legs that include some hand-made paintings in colorful palette. You can easily change the position of the ottoman in your home thanks to the mobility achieved by adding little wheels to the legs.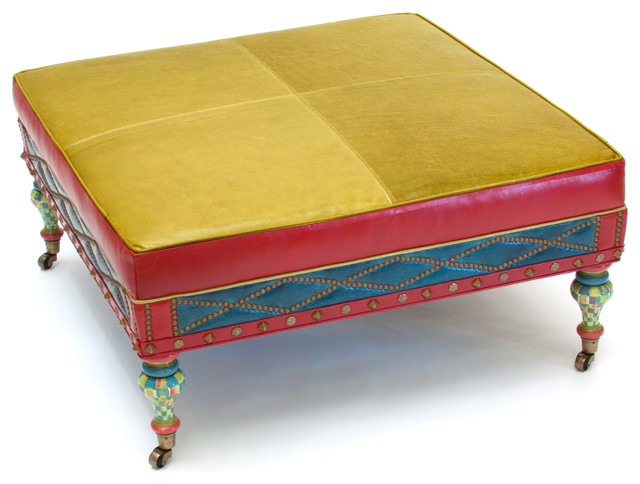 For more colorful ideas check HERE.