Wall tiles are an increasingly popular phenomenon. They have become the staple of a fashionable bathroom, often being prioritised even before the appliances themselves. However, wall tiles are much more than just decorative, they are hugely practical.
They're incredibly easy to clean, which is handy for a bathroom, and are resistant to odour, stains, moisture, and fading. Lockdown has been the absolute perfect opportunity for some TLC on the home, and wall tiles have played a part in that DIY frenzies.
One of the most popular products of Porcelanosa is the Marmol Carrara Blanco, a ceramic white tile with a gloss finish and a marble aesthetic. Subtle marble will always be in fashion, but it's also the sheer size of the tiles being almost 60cm in length. This is a common theme among spacious modern bathrooms, whilst smaller bathrooms tend to opt for smaller tile sizes.
Porcelanosa doesn't only do bathroom wall tiles but also bedroom ones too. This can give a uniquely grand feel to a bedroom, with lots of opportunities for a single feature wall – often at the head of the bed. Whilst marble effects are popular in bathrooms, concrete effect is now a modern craze due to the monochrome potential, contrasting starkly with the furniture or wooden floor.
The demand for wall tiles is further driven by the van conversion epidemic that we have seen over the past year. With holidays abroad ruled out, many have turned old courier vans into liveable, stylish mini homes. With the help of Youtube, it's become all the easier to learn how to tile the small van bathroom yourself to save costs and keep things waterproof.
There's also plenty of opportunity for wood, finally, to be in the bathroom. Of course, this is both impractical and logistically difficult to have real wood, hence why Porcelanosa's wood effect can be a versatile alternative. Given that there are so many opportunities, here is a quick guide on how to choose your future bathroom wall tiles.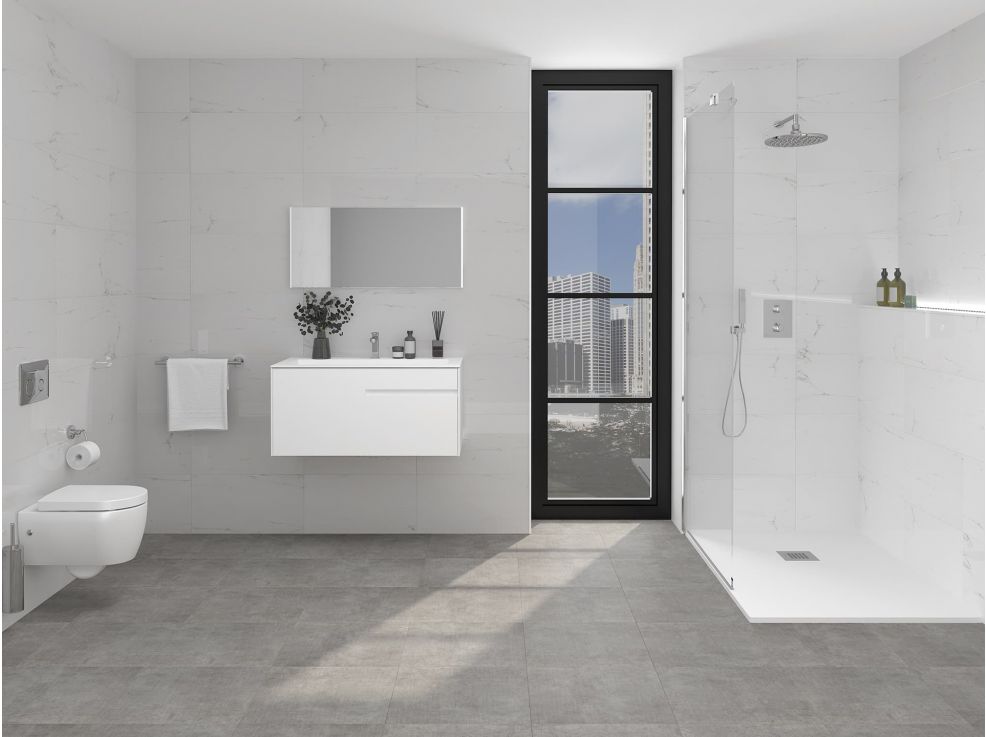 How to choose bathroom wall tiles
Pick your stand-out feature
First and foremost, you will want to decide what kind of feature wall you want. Do you want your bath to draw your attention? How about a modern shower enclosure? This is the first thing to establish, as the wall tiles will then become the backdrop that enhances the key focal point. If you already have a focal point, like a roll-top bath, then this is an easy step!
Deciding on a pattern or colour
Next up is perhaps the most enjoyable decision – deciding what style you want your wall tiles in. You may have come across a certain matte black pattern in a magazine that you fell in love with, or an interesting shape. Of course, your feature focal point should also be taken into consideration here.
Tile layout
Deciding on a pattern doesn't have to mean the tile alone, it can be the way you arrange the tiles. Tiles can be incredibly versatile, and the way you organise them on the wall can completely change or enhance a certain feel or design. Generally, tiles lay horizontally, but don't be afraid to put a strip of verticle tiles halfway up the wall.
Accent tiles
Accent tiles are a mixture of smaller other tiles, usually in slightly different shades, to complement the key tiles. This may be a checkered strip of small box tiles to separate the top and bottom half of the wall. This can help ease the transition of bold patterns, so you don't create too many focal points.
Size matters
Now, many of us like the look of those large, imposing tile squares that go in luxury homes. However, you have to be realistic about the size of your bathroom. Most British bathrooms are relatively small, which means that tiles are usually small.
Texture
Opting for tiles with a rough, stone-like texture can make the bathroom feel warm and spa-esque. Like with Porcelanosa, most tiles are ceramic, but just have a different appearance, such as wood, marble, stone, and so on. This can be more practical, whilst still retaining a textured feel.
Does it match the floor?
The last thing you want is your feature wall tiles to be overshadowed or convoluted by your floor tiles. This is why you need floor tiles that subtly complement the feature. Alternatively, if you fall in love with a brightly patterned floor tile, then it may be best to avoid another strong pattern on the wall.
Practicality
Practicality usually involves what texture or finish you opt for. If you have tiles that have physical textures, such as pebbles, then this will be a place for water to sit and grow bacteria. Ceramic, glossy tiles are undoubtedly the cleanest and most water-resistant, although they are easier to crack than most textured finishes.