Plants Pots indoor and outdoor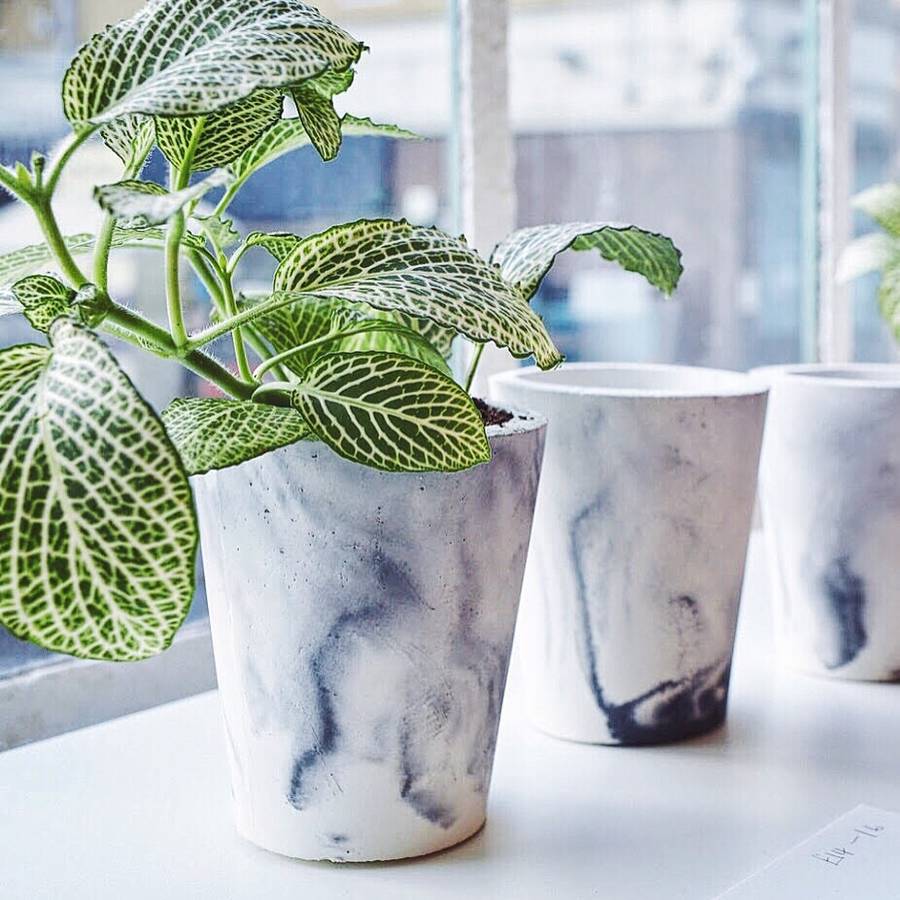 Concrete Heart Pot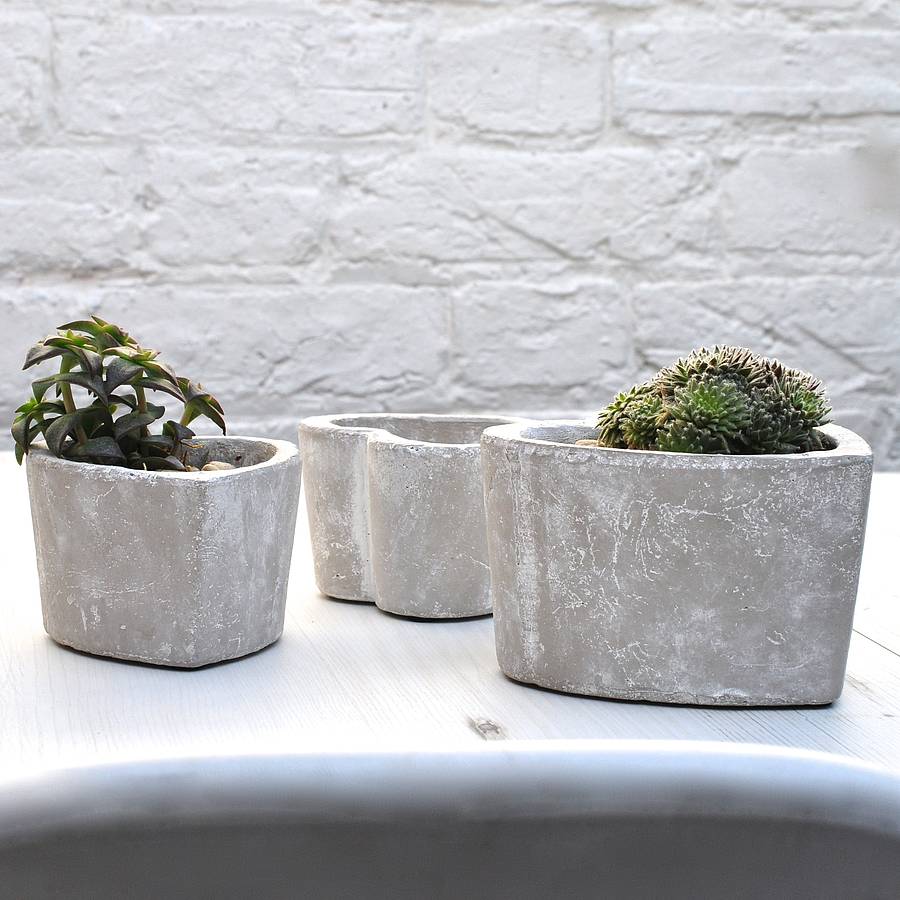 Our handmade concrete heart pot will create an enchanting display in your garden or kitchen. Our handmade plant pot is made of concrete and is available in two sizes (small and large). Fill it with succulents or herbs for a beautiful display in your favourite spot. Each pot is naturally textured and the small imperfections that are created by bubbles of air in the concrete add a charm and create a unique object. The selection of pots will wonderfully suit country and modern gardens.
Willow Teacup Plante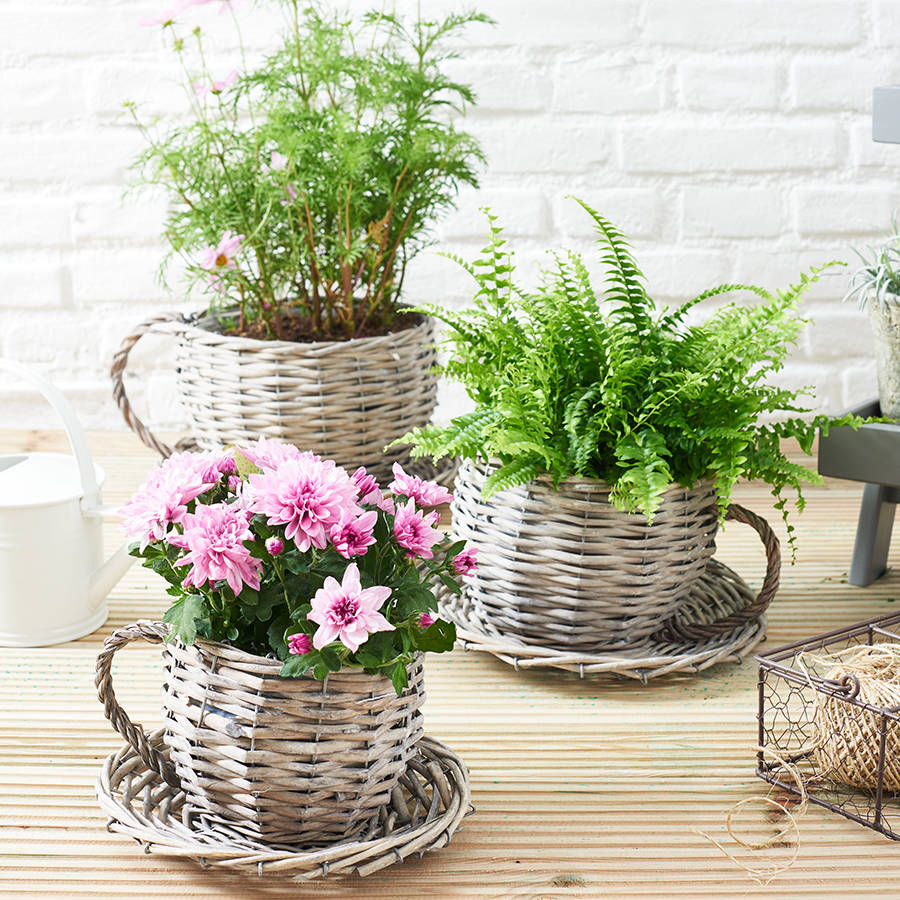 A fun teacup shaped willow plant holder. This oversized willow teacup and saucer is lined with a plastic inner and is perfect for planting up small plants and spring bulbs. It is suitable for indoor and outdoor use. You can have lots of fun trying it out with different plants, we love it planted up with snowdrops for early spring. Several teacup planters would look great dotted around the table for an outdoor lunch party. The teacup is attached to the saucer. Perfect for decorating small outdoor spaces.
Large Garden Fork Planter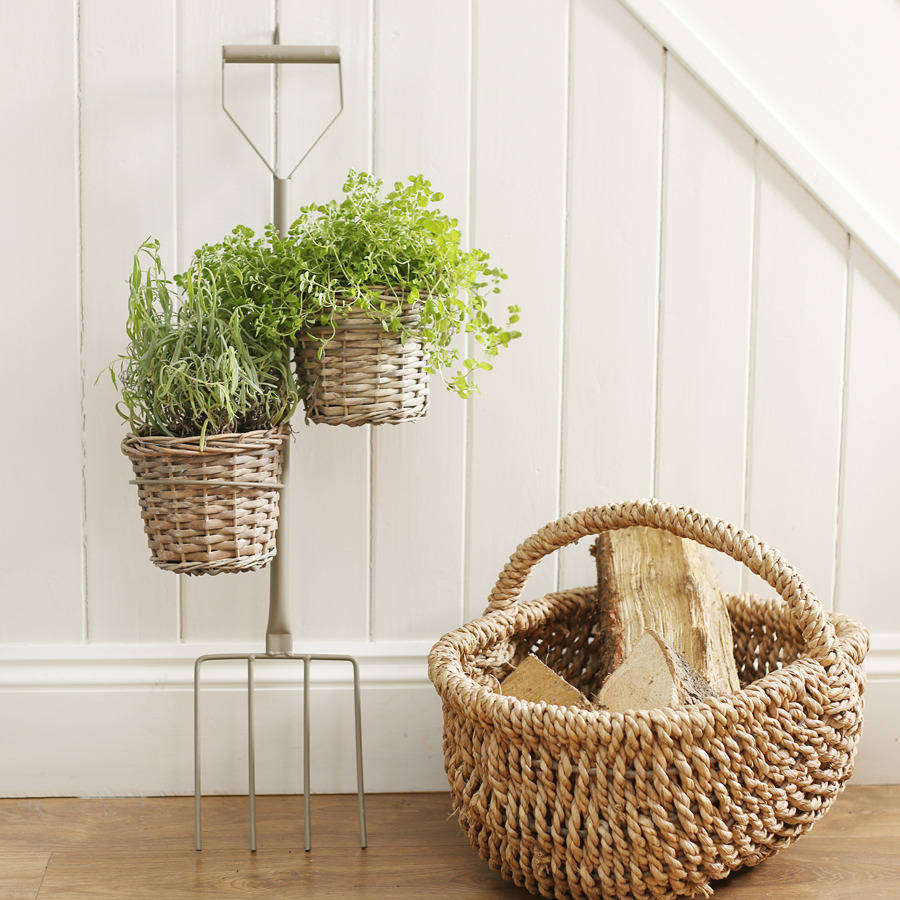 Garden fork planter with two willow planters. This large decorative planter is styled as a garden fork, fitted with two lined willow plant pots. It is perfect for adding a whimsical element to a vegetable or herb garden. The fork has a hook at the top and can be hung on a wall or the prongs of the fork can be pushed into the ground.
Vintage Garden Tap Planter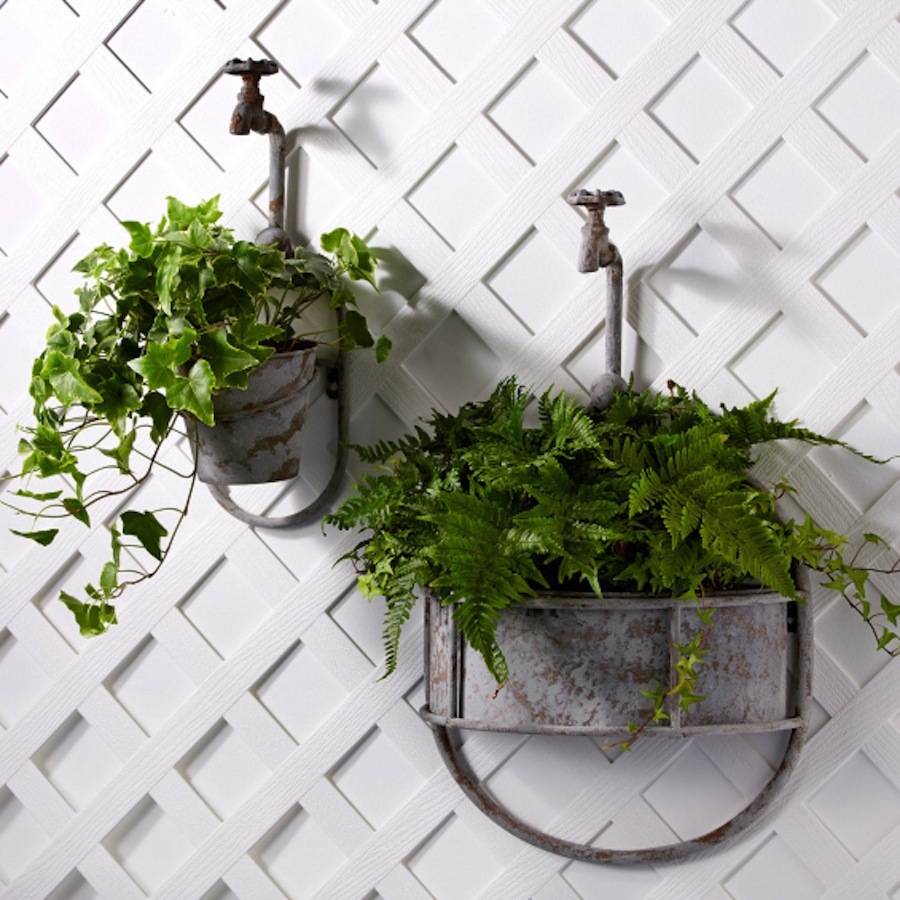 Quirky metal planters with garden tap features. Add a whimsical touch to your garden with one of these unusual antiqued iron planters. They look great planted up with herbs, positioned near an outdoor eating area or kitchen door. There are two styles available, a small hanging planter and a large double planter both with attachments for wall hanging. Both styles feature vintage iron taps and removeable iron pots.
Plant Pot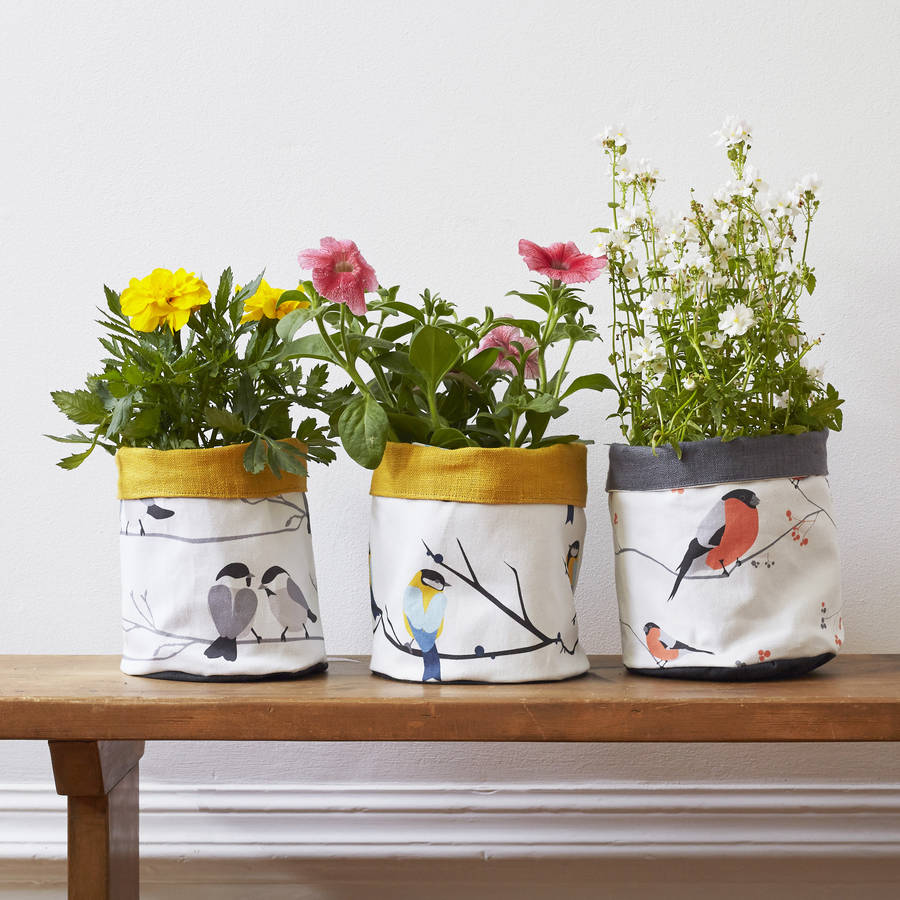 Our waterproof fabric plant and storage pots are a great way to bring some colour into your homes. Either in the kitchen filled with scented herbs or along the window sill with indoor plants. Also great for pen pots, storage pots and making your workspace tidy! Waterproof lining, if using as a plant pot, water as usual but remove any sitting water.
Handcrafted Pot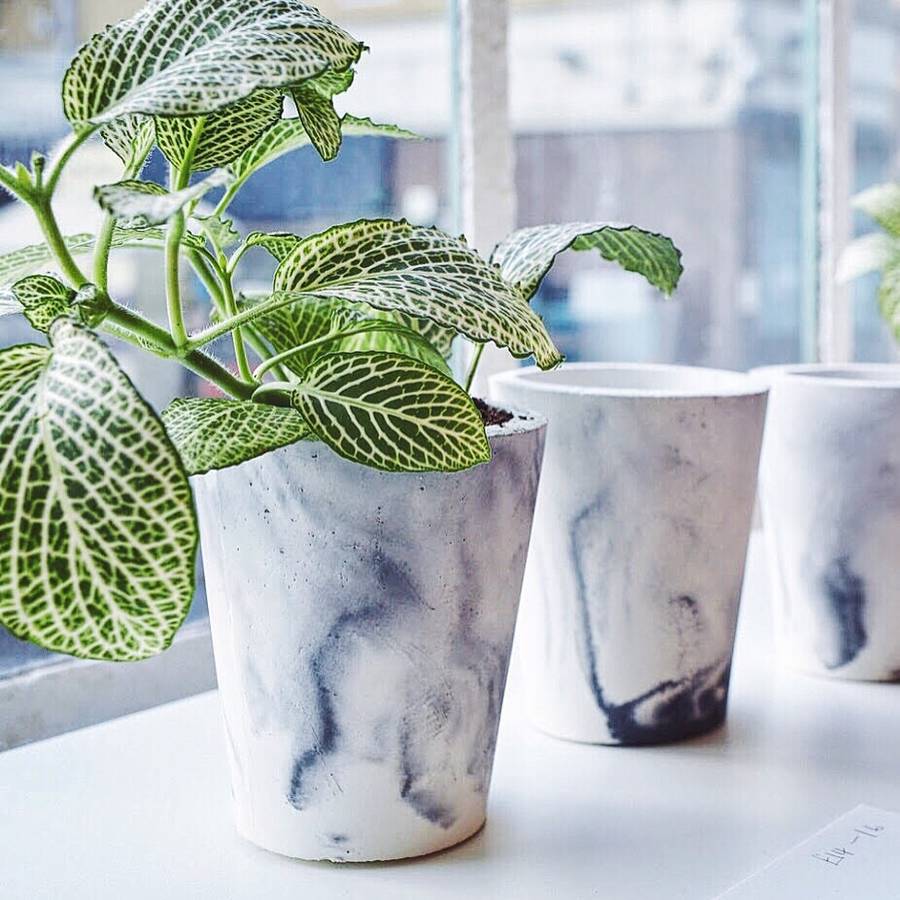 This collection of pots handcrafted in off-white stoneware, beautifully decorated and hand glazed will make an enduring addition to any interior. Available in simple yet timeless stripe designs our pots come in a wonderful combination of matt outer and shiny center. Each pot has been hand made and hand painted turning them into truly unique pieces. This range of pots will look equally striking when planted with cacti and succulents or leafy plants.
Garden Pouch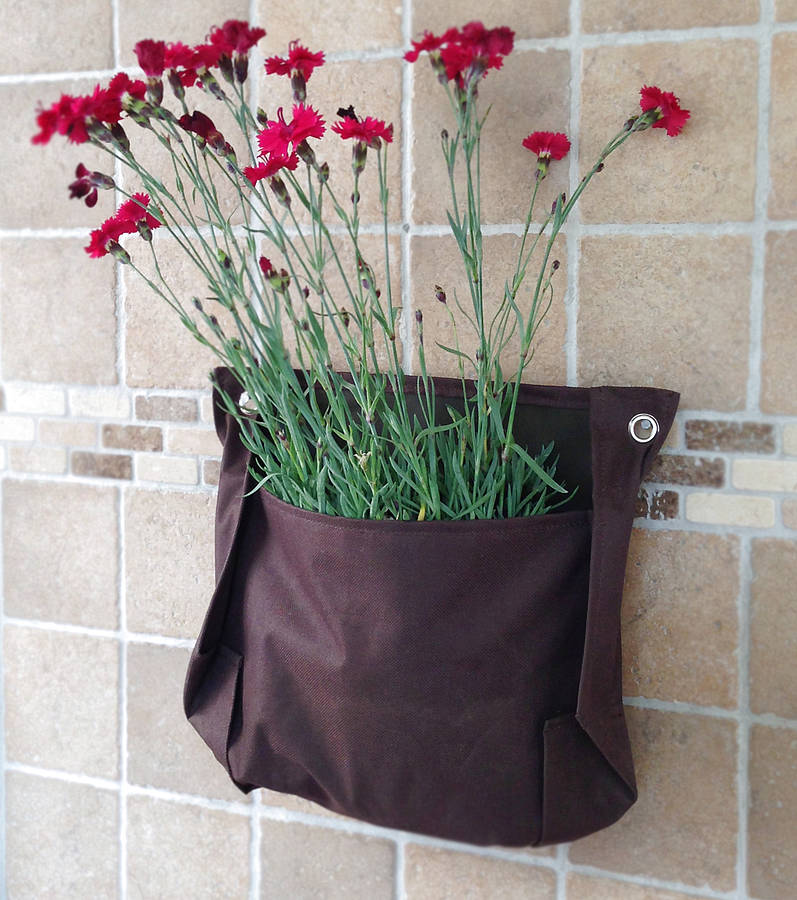 Grow your herbs and plants indoors on your wall or balcony indoors. This is a perfect gift for green fingered recipients who don't have a garden or love growing plants indoors. Stylish and simple in design the water-proof grote bag comes in four modern colours, Made our of oxford cloth material, the bag look good and doesn't stand out of place in a modern home. It also safes a lot of space compared to plant pots! Using the side rings, attach the bag onto the wall to transform your wall into a vertical garden. Or attach them to balconys. This bag can also be used outdoors.
Set Of Three Vintage Galvanised Steel Planters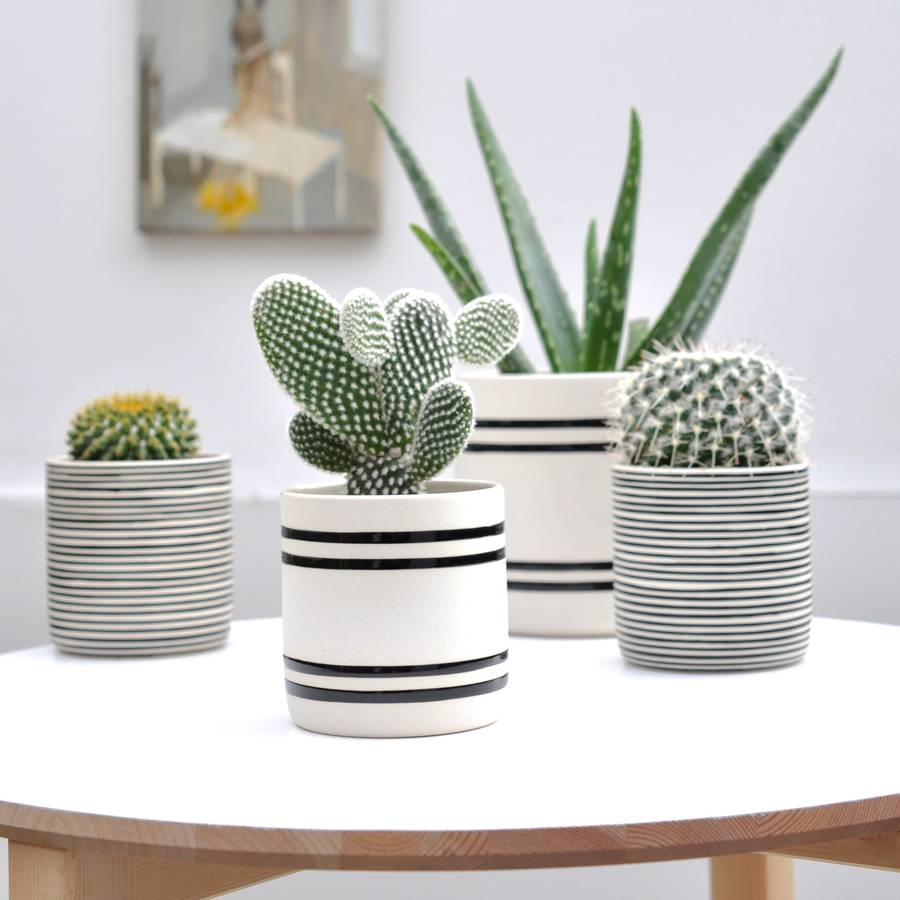 Add a touch of rustic charm to your garden or patio with this trio of planters. Our set of Three Vintage Galvanised Steel Planters come in three different sizes, with a contemporary edge and engineered style, they add a robust design to any garden. Each planter has recycled rubber handles for easy moving.
Concrete Gladstone Bag Plant Holder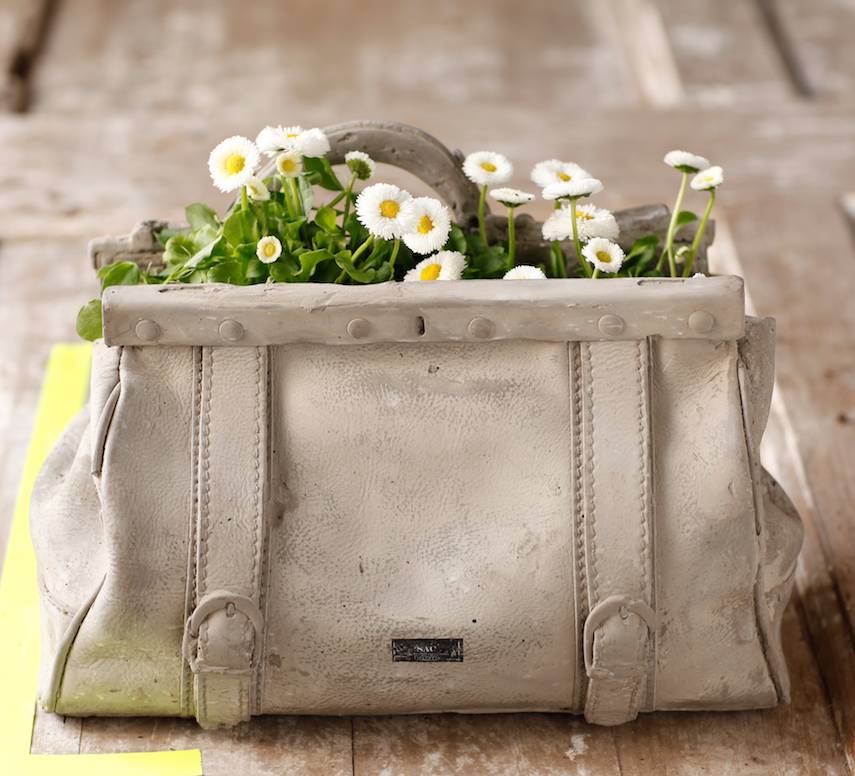 A stunning concrete vase or ice bucket in the shape of a Gladstone bag! This quirky, and original detailed concrete satchel plant pot that could be used for other things too, from a vase to a waste bin or newspaper holder! The bag is completely water tight. It would make a great conversation starter and a fantastic wedding gift. The satchel comes in an amazing wooden gift box making it the perfect present.