There's truly no more important space in your home than your bedroom. It's the place you unwind, the place you rest your head, and sometimes, it's the only space you have to get a break from the outside world. For this reason, it's important to take pride in your bedroom's decor and ensure that it reflects your unique style while still functioning as a place you can call your sanctuary (even if it's a small space).
If you're looking for easy ways to elevate your bedroom decor, check out these 6 helpful tips!
1) Start by ditching the clutter
The key to creating a bedroom that's relaxing and sophisticated is getting rid of any clutter that might distract you from anything other than that. If you need to do a full Konmari-style overhaul of your closet and bedroom belongings, follow these tips to help you:
Make your bed before doing any other cleaning so that you don't leave any of your mess strewn about your bedroom
Put all of your clothes away first before reconsidering whether to keep or donate them
Clear off all surfaces and then wipe them clean
Use a cordless vacuum to clean all floor space
Remake your bed if you need to
2) Make it cozy
The most important space in your bedroom is your bed, so why not focus your renovating efforts on creating a cozy space for yourself? Start by choosing a mattress that's supportive and comfortable, whether you prefer firm mattresses or soft ones. There's nothing worse than an uncomfortable mattress disrupting your rest.
Once you have your choice mattress selected, consider upgrading your bedding. Linen, high-thread count, or Sateen bedding are all luxurious options that you'll be happy to rest your head on.
3) Be intentional about lighting
From applying your makeup to lying down to read your favorite book, lighting is one of the most important aspects of your bedroom's design. You want it to be bright enough to allow you to have a clear perspective when you need it, but you also want it to be soft enough that you can relax without harsh lighting bothering you.
Invest in a lamp with a dark lampshade and soft light bulb to achieve this balance with minimal effort!
4) Play with patterns and prints
If it's personality your bedroom decor is lacking, you might want to try playing with some fun patterns or art prints to dress up your space. Just be sure to get your prints framed so that your sanctuary space doesn't wind up looking like a college dorm room. Plus, your prints will have a longer lifespan because of it!
As for patterns, while there's nothing wrong with layering them, it's important to establish some boundaries if you want to maintain a level of cohesiveness and sophistication. Try adding in some patterned throw pillows, a tapestry, or some removable wallpaper to complement your neutral tones so that your budget and bedroom don't go totally out of whack. Once you get a sense of which patterns you like, you can build onto your design and add in more patterns and colors as you go!
5) Incorporate greenery
In addition to making your space feel more cozy, adding in greenery to your space can also have a number of psychological and physiological benefits, including:
Better respiratory health
Boost immunity
Improve concentration
Reduce dust
Regulate temperature
What's more, houseplants have become enormously trendy over the last few years, making them easy to find and add to your bedroom decor. If you're worried about maintenance, you'll be relieved to know that there are many low-maintenance options to choose from. For example:
Snake plants thrive in low light
Peace lilies quickly recover from wilting with light watering
Parlor palms can survive with little to no natural light
Fiddle leaf figs prefer some light and humidity, but their broad leaves make a big statement that can take your bedroom decor to the next level
6) Think about textiles
One of the things many people forget about when redecorating any space is the importance of texture. Whether you choose to decorate a faux fur rug or a knit blanket, making sure you add some alternative materials to your space can seriously elevate the look.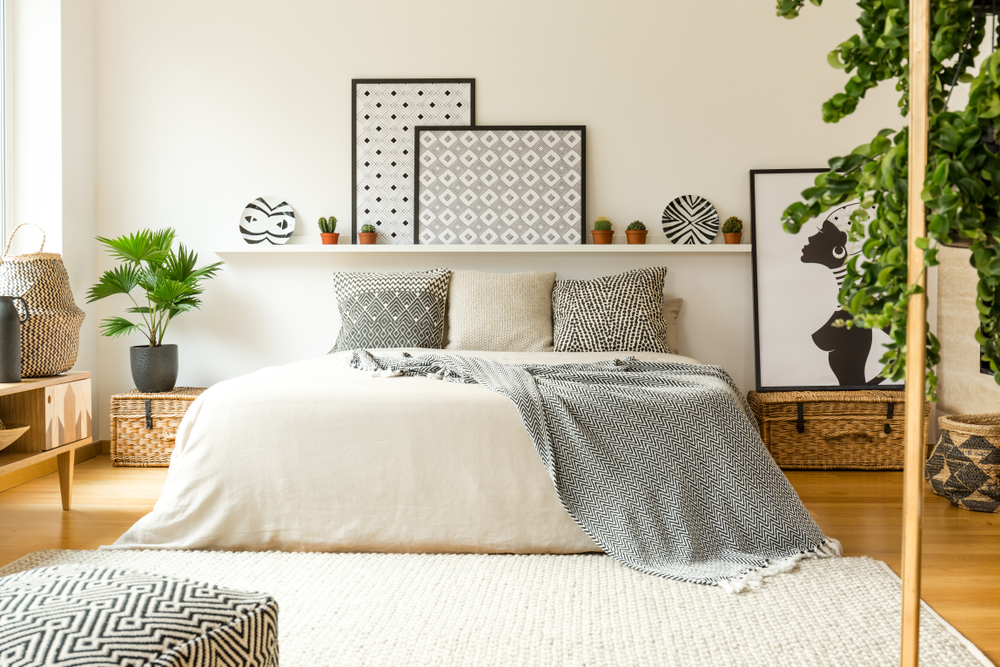 Wrapping up
Using these tips your bedroom will become your new favorite place in no time!